York University's work-focused Experiential Education opportunities allow students to develop competencies and skills in live workplace environments.
From paid co-op and internship programs, to placements and a wide variety of practicums, York offers a myriad of learning experiences, across a number of faculties and programs, that connect classroom learning to the workplace.
Cooperative Education
York University's Co-op Program provides students in specific programs with an opportunity to integrate their classroom learning with hands-on, paid, work experience related to their field of study. The York Co-op Program is currently available to students in:
Biochemistry
Biotechnology
Chemistry
Engineering (Lassonde)
Environmental Biology
Environmental Science
Paid Internships
The LA & PS Internship Program is an optional experiential education program for third year students in full time studies. Four, eight, twelve or sixteen month internships are available in the following programs:
Accounting
Biophysics
Business & Society
Communication Studies
Economics (including Financial and Business Economics)
Finance
Human Resource Management
Information Technology
Management
Marketing
Physics & Astronomy
Public Administration
Placements
Practicums allow students to blend theory learned in the classroom with supervised, hands-on practical experience from experts in your field of study. Usually offered as field placement programs, practicums are learning opportunities that help prepare students for success in the working world. Explore York's Practicum programs below:
Social Work
Nursing
Education
Osgoode Hall Law School
Recent Experiences
Students Prableen Jaswal and Samantha Chhom-Yousuf speak about their placement opportunities within the Social Work program at York University. They discuss the positive relationships as well as the knowledge they gained from practicing in a real-world setting.
Daniel Pelaggi, a Schulich student talking about his internship with Ernst and Young in the Summer.
From the Students
I would definitely recommend the program to other students. Working as an intern is an extremely rewarding experience as you get to meet many new people and gain valuable work experience. I feel as a student working in a large company, I had the opportunity to learn about the company and find my own way in it. The possibility to move to a different department and job rotation was a possibility. I am very happy that I enrolled in the York Internship Program and with the assistance of the staff I was able to land this position.
- Adil Hamid, HRMIP, 8 months
Yes I would recommend the program to other students. The reason I chose to do the internship program was for experience. I believe anytime you have a chance to get work experience in a field you might work in is great. It is a great learning experience and gives you an advantage to other graduating students who have not had the chance to work in their field. Also the internship team was very helpful and supportive throughout my internship terms.
- Rae Lauro, ITEC, 12 months
I understand that the work environment can be demanding at times and also ever-changing and this is one of the things I liked about my work placement; being able to switch between different tasks, i.e. having different experiments to run, using different instruments and being exposed to new things almost everyday. I was the first Co-op student they employed but I was pleasantly surprised how I easily fit in at work and how my work term was properly organized. Overall I had an excellent manager and co-workers that made my stay at MG Chemicals pleasant and unfortunately too short.
- Darrell Lee, Co-op, 4 months
Embarking on an internship via the York Internship Program was the best decision I made as a student, bar none. I secured a position and spent an entire semester contributing to meaningful public sector initiatives and expanding my professional network, all whilst earning a competitive salary that I have used to reduce my student debt. My advice to students considering an internship? Take full advantage of this unique opportunity. An internship might re-affirm your choice in major, or point you in an entirely new direction altogether. Don't wait until after you graduate to find out if you've made the right choice.
- Akbar Hashmi, BPAIP 12 months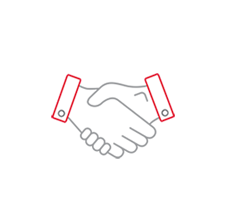 Employers & Community Partners
Hire York's best and brightest